This semester saw the launch of a new second-cycle course of study at the Faculty of Economics of Maria Curie-Skłodowska University. The interdisciplinary curriculum, conducted in English, allows students to gain knowledge and skills in the area of data analytics. Classes are taught by academic lecturers and business practitioners.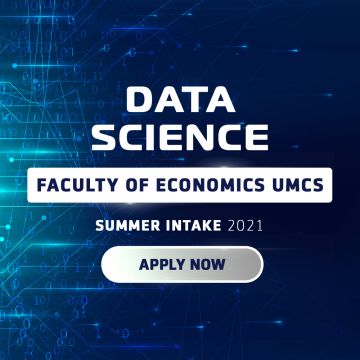 The Data Science major at Maria Curie-Skłodowska University (UMCS) is a response to rapidly growing business requirements for processing, analysis, visualization, inference and decision-making based on data. People working in this field combine knowledge and skills in the latest IT technologies, such as Big Data, Artificial Intelligence/Machine Learning, or Internet of Things. Understanding of business processes and customer needs as well as communication skills are also key. The number of job offers for people working in the Data Science area is constantly growing.
In order to respond well to the needs of the market and employers, UMCS has launched a new course in collaboration with Lingaro – a global company providing Business Intelligence and Data Analytics solutions, growing and strengthening its position in the market. This semester, Lingaro experts are leading the "Data Integration for Business Intelligence" track within the UMCS course.
Thanks to our strong market position and expertise, we have the opportunity to co-create a new Data Science major at Maria Curie-Skłodowska University. This is an important step for us in building substantial cooperation with the university and its students – says Filip Merklejn, director of Lingaro's Lublin. – Our experts will share their practical knowledge in the fast-moving areas of data analytics and IT technology. We'll also support students in gaining the business skills they need to work with clients from various industries.
In the Data Science II degree, students will be given the tools to succeed in this field. The participation of experts from Lingaro, working every day in the business environment, is a key element of the programme. The combination of UMCS experience with Lingaro's position as one of the leaders in data analytics translates into high value and innovation of the course – says Mariusz Kicia PhD, Dean of the Faculty of Economics.
More information about the Data Science course can be found on the University website: https://rekrutacja.umcs.pl/nowy-kierunek-data-science/
---
Lingaro specializes in solutions in the areas of Data Science, Data Analytics, Big Data, Business Intelligence. It employs over 1000 people, with offices in Warsaw, Lublin, Zurich, Manila, Cincinnati and Singapore. Clients include the world's largest Global Fortune 500 companies and Polish market leaders. In 2021, Lingaro was again ranked 2nd in the AudIT competition for the best IT employer in Poland, organized by Computerworld.