Nocowanie.pl is nowadays the most important Polish search engine for lodging places in the country. The portal's history began in 2003 when a student of Lublin University of Technology, in order to prepare his diploma thesis, created a website containing up-to-date information and accommodation offers. The idea was continued with nocowanie.pl which Kamil Ruciński ran after working hours at a Warsaw-based company. We are talking to Kamil Ruciński, the brand's success creator, about his 15-year history of work on the portal.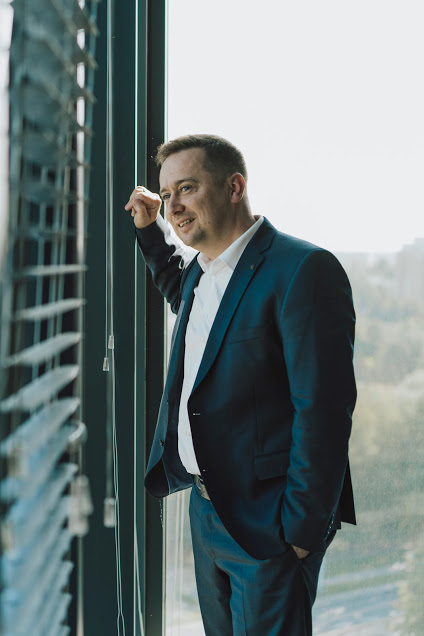 It started with an idea for a master's thesis at Lublin University of Technology?
That's right. In 2003 I graduated from the Faculty of Management and Computer Science at the Lublin University of Technology and I needed a good idea for my thesis. As part of my thesis I created a website for the town from my town of origin, KazimierzDolny.pl. The site contained up-to-date information and accommodation offers. The service became a local online newspaper. At the beginning I did everything myself. I was a programmer, graphic designer, editor and photographer.
What made your idea stand out from other ones at the time?
The first websites about Kazimierz already existed, but they were not on a high technological level. They lacked interaction with users or even simple updating of data. It turned out that there was no need for spectacular innovations; it was enough to observe the market and do things better than the competition. Webcams showing the city live turned out to be a hit. It was important to provide tourists with quality service and information tailored to their needs.
It was your hobby, but one that did not bring in fixed costs. What was the idea behind developing the service?
After graduation I went to work for a corporation in Warsaw, and at the same time I ran a website after hours. With time I started to receive requests to advertise on the website. People wanting to advertise wanted to rent rooms, but also guesthouses, restaurateurs and people offering tourists various attractions such as off-road vehicle rides through ravines or boat cruises on the Vistula River. At the beginning I placed ads for free. But as time went by, I started to think about it. Because I devote my time to the portal. On weekends, on my days off, for several or more hours at a time. Why should I still do it for free, I thought. The beginnings were not easy, when I set the first, symbolic rate for advertising, people shook their heads in disbelief. This is the Internet, everything is free there, my first clients kept saying. With time, this changed. I started to make money on the portal.
When did the idea for the nocowanie.pl portal in its current form come about?
Two years later in 2005, as a continuation of the first project, but on a larger scale. At that time I did all the work myself, with editorial help from my wife. I wrote the first scripts for the website on my own, in the meantime I did the graphic design, took photos and put together news and advertising offers for potential customers. In 2009, both my wife and I resigned from our jobs and returned to Lublin to begin serious development of the nocowanie.pl portal. We hired our first co-workers: people who entered accommodation into the system, collected information and photos, verified ads, sold adverts, but also enclosed the service with texts on where to go for a long weekend.
A thesis idea that turned into a hobby and then a permanent job?
That is how it has been. The portal has changed over the years. Everything was done to adapt the site to the needs of customers. Just three years after its creation, we refreshed its graphic design. In 2010, we created a free website. This was a bull's eye, as only a few months later nocowanie.pl recorded its first million unique users per month. Today, it has over 3 million monthly users. We have steady growth year on year. Of course, the market is ruled by seasonality. Our observations show that Poles start thinking about booking accommodation almost at the last minute before departure. Hence, the highest web traffic is during holidays and at the beginning of winter break. Weekend trips are also becoming increasingly popular.
What keeps you at the top of the most important search engines in Poland?
What determines the success of a company is its credibility. That is why, apart from a team of almost 100 people who work in the Lublin headquarters, many of our representatives are active in the field. It is thanks to their work that we can avoid publishing unreliable accommodation offers, outdated photos of rooms or even announcing offers of boarding houses that have already closed down. Our efforts have been appreciated by the giants of the Polish Internet. In 2016, the majority package was bought by the Wirtualna Polska Group.
It was a breakthrough for you.
Every web developer at some stage has to ask themselves if they can continue to run the business on their own, or maybe it's better to join up with someone bigger and jump into much higher levels of business. This was a very good decision. Both companies benefit enormously from this, such as from the exchange of know-how. Since then, we have also significantly expanded the team, with new people joining the marketing and IT departments. For the employees, cooperation with such a significant entity as WP is an additional benefit. This year, we have also invested in radio and television advertising, using the Group's know-how. We will certainly be heard about more and more, but above all we focus on building relationships within the community of tourists and facility owners.
In January 2021, Tomasz Machała, an experienced manager, took over the position of CEO. He will use his years of experience to strengthen the position of Nocowanie.pl on the market even further. I continue to support the portal, currently as a Member of the Supervisory Board.
What guides your portal users in their choices?
Each accommodation rental is a matter of individual choice. For some, the location is important, for others the price or the standard. Families with children are looking for places with additional attractions for their charges, and for animal lovers it is important whether they can take their dog and cat with them. The task of charges the Nocowanie.pl portal is to provide users with such suggestions that they find what they are looking for. And it is widely known that the best journey starts with the choice of accommodation.