The European Union Delegation to India in collaboration with Global Business Inroads (GBI), Enterprise Europe Network (EEN) and Particip invites you to the Digital B2B Connect event to connect European digital technology companies with Indian companies looking for innovative solutions to digitally transform their businesses.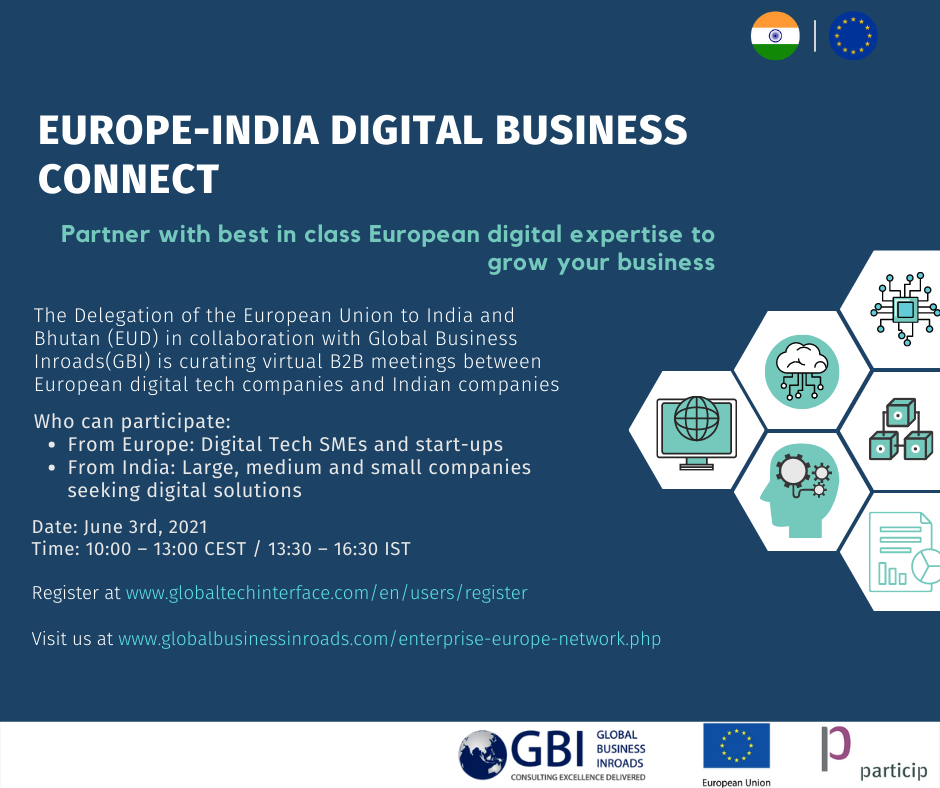 To harness the opportunities of 'Digital Europe' and 'Digital India' and address the needs arising from the global Covid pandemic, the European Union Delegation in India is providing an opportunity for EU digital technology companies to connect with potential customers and partners from India, one of the largest emerging markets focused on digitisation. It is a networking event aimed at facilitating B2B contacts between EU digital technology companies and Indian companies.
Who can participate?
Digital technology companies with expertise in areas such as: 5G, Cyber Security, Industry 4.0, AI, IoT, M2M, SAAS, E-commerce, Fintech, AR/VR, Cloud computing, Blockchain, Big Data Management, Automation etc.
Who will participate?
Large corporates, SMEs, start-ups, companies from various sectors including: Automotive / Mobility, Energy, Maritime, Water, Food / Agri, Aerospace, Industrial, BFSI, Pharma, CPG, Retail, Healthcare, Manufacturing Logistics and other sectors looking for digital technology and transformation.
The first event will take place on 3 June 2021.
The European Union Delegation in India invites European digital companies to showcase their products and services by registering on the website and using the reference code: DBC EU.
Based on the data provided during registration, the organisers will be able to arrange B2B meetings with Indian companies. 25 EU digital technology companies will be selected to participate in the B2B meetings. 
The profiles of the Indian companies and their requirements will be made available prior to the B2B meeting and the event.
The programme flyer and preliminary agenda for the upcoming programme can be found on the website.